Dinicu, Grigoraș Ionică
Grigoraş Ionică Dinicu was a Romanian violin virtuoso and composer who belonged to the Roma ethnic group. He is best known for his frequently performed virtuoso violin showpiece "Hora staccato" (1906) and for popularizing Ciocârlia, a melody written by his grandfather Angheluș Dinicu for "nai" (the Romanian pan flute). According to legend, Jascha Heifetz once declared Grigoraş Dinicu to be the best violinist he had ever seen. He was prominent in the Romanian Roma political movement in the 1930s, and was elected honorary president of the "General Union of the Romanian Roma." Hora mărțișorului (Mărțișor, literally "little March," is a large Romanian seasonal holiday on March 1), Ceasornicul (The Clock), and Căruța poștei (The Clock) are other well-known compositions (The Post Wagon).
He was born in Bucharest, in the Scaune district, to a family of lăutari (Chairs). Since his father was preoccupied with his work as a lăutar, he entrusted him to "moș Zamfir," an elderly violinist, who taught him the basics. He studied violin with Dumitru Georgescu-Kiriac at the Bucharest Conservatory. Carl Flesch, the violin pedagogue, was his most successful teacher, with whom he trained in 1902. He was given a scholarship to the Vienna Conservatory, but he was refused entry because he was Romani, an event he would never forget. He appeared as a soloist and played violin with the Ministry of Public Instruction Ensemble following graduation. Hora staccato was written as a graduation activity at the start of this century. He managed popular music concerts for forty years, from 1906 to 1946. He also sang in nightclubs, bars, pubs, and cafés in Bucharest and in Western Europe as a soloist and conductor, and he played a lot of light music. His music is mostly composed for violin and piano, but certain parts (such as Hora staccato) have been arranged for other instrument combinations (for example, trumpet and piano, as well as violin and orchestra and a popular arrangement by Russian mandolin virtuoso Dave Apollon). He died of laryngeal cancer in Bucharest.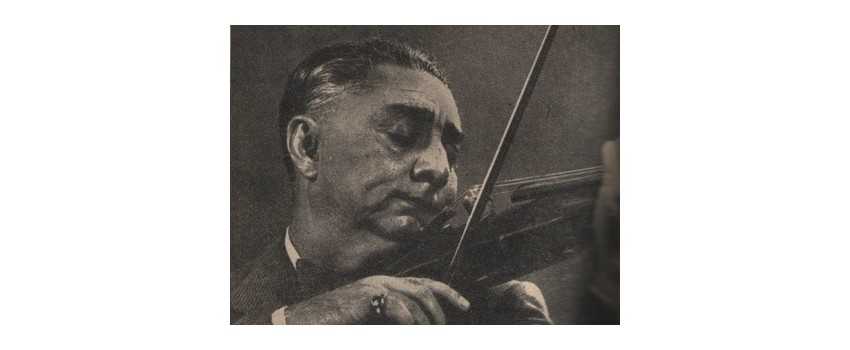 ---