Leclair, Jean-Marie
Jean-Marie Leclair (10 May 1697 – 22 October 1764) was a pivotal figure in the growth of French violin music. His ability as a dancer brought him from Lyons to Italy, where he might have practiced violin with Somis before returning to France and living in Paris. In 1733, he joined the royal service and retired four years later. Anne, Princess of Orange, and the Duke of Gramont, a former student, were among the patrons that came after. In 1764, he was assassinated, probably by his nephew, who was also a violinist. Even though he composed music for the theater, including the opera Scylla et Glaucus in 1746, Leclair is better known for his violin music, especially his first two published sets of violin sonatas.
Two for flute and basso continuo are included in the first collection of twelve, written in 1723. Five for flute as a potential alternative to the violin are included in the second dozen. Though he has not been able to avoid parallels to Bach, the elegance of his harmonic vocabulary, the lushness of his harmonies, and the richness of his orchestral composition earned him recognition as one of the most influential figures in eighteenth-century French music. In the fall of 1723, Leclair arrived in Paris and published his First Book of Sonatas for Violin with Basso Continuo, dedicated to Monsieur Bonnier, Treasurer-General of the Etats de Languedoc, after receiving the requisite approvals. Bonnier, a wealthy financier, was to be his first defender, although his son rapidly advanced through the ranks to become Leclair's reward pupil. He returned to Turin the next year to work as a "premier danseur" at the Teatro Regio. There, he encountered Joachim Quantz and started learning violin techniques with Giovanni Battista Somis, a Corelli student, an experience that would pave the way for his future as a violinist.
"Noticing his unusual aptitude for the violin, at which he was already proficient," his first biographer writes, "(Somis) gave him to realize that the violin would certainly take him farther than the dance." Bonnier-fils, who goes by the pseudonym Bonnier de la Mosson, had succeeded Leclair's father in Paris. With his Second Book of Sonatas for Violin and Traverse Flute, published in 1728, Leclair paid him homage. The violin did not gain the same prestige in France as in the hands of great Italian composers and virtuosi. Even though it had developed itself in orchestras as early as the middle of the previous century, the device had almost no following in chamber music. The Violin technique has just recently started to evolve under the influence of the Italian style due to the work of Louis Francoeur and Jean – Baptiste Senaille. Still, as the musical audience soon noticed, Leclair's first two books stuck out for their originality and complexity of execution.
"Leclair is the first composer who, imitating nothing, has produced something fine and fresh, something that is distinctively his own," Sere de Rieux was to write when the Third Book of Sonatas for Violin, dedicated to the Monarch, was written in 1734. Following a stay in Cassel, For the first time, he met Pietro Antonio Locatelli, a student of Corelli and a great violinist of his right. Leclair married Louise Roussel in September 1730. Mme Roussel was the engraver of his Second Book and would later go on to engrave all of his works, even after their separation. The Bonnier family, Jean – Baptiste Forqueray, and Andre Cheron are among those who witnessed their union. Cheron was a counterpoint teacher who taught Leclair, and it was to him that our violinist devoted his first album of concerti.
Both at home and abroad, Leclair followed a virtuoso career. He had been a frequent performer at the "Concert Spirituel," France's first public concert venue, since 1728, where his accuracy and elegance earned him a devoted following. In 1734, he was elected Premier Symphoniste du Roy and devoted his Third Book of Sonatas to Louis XV as a token of appreciation. However, in the person of Jean – Pierre Guigon, a lanky Piedmont violinist and former student of Somis who had joined the king's service, dark clouds had started to collect. Guigon, too, had a good show at the "Concert Spirituel." To much widespread praise, the two violinists often engaged in artistic jousts. According to Marc Pincherle, "in those times, there was no simple win" between Leclair and Guigon because "their performing styles varied deeply, Leclair's being more direct, more technically delicate, more cerebral, while Guigon's was more vivid, more fanciful."
Leclair, who had been gradually distant and irascible, had reached the point that he could no longer bear the rivalry. Despite an arrangement that allowed him to appear at the Chapelle and the Chambre du Roi on alternating days, he resigned from the king's service in 1736, never to return to the "Concert Spirituel." Pierre Gavinies and L'Abbe le Fils, two of his younger students, managed to execute his works. In 1737, Leclair traveled to Holland and was greeted warmly by the Princess of Orange at Leeuwarden. He devoted his Fourth (and final) Book of Sonatas to this accomplished musician who had studied harpsichord with Handel. In Amsterdam, he met Locatelli again, with whom he established a friendly working partnership. He was eventually persuaded to publish his Arte del Violino concerti and caprices in Paris. In 1740, we saw him leading the private orchestra of wealthy explorer Francois du Liz in The Hague. Following his benefactor's ruin three years later, Leclair returned to Paris, vowing to "savor in harmony his name and respect to men of goodwill." He soon transferred to Chambery, where Don Felipe, Infante of Spain, had set up his court.
According to legend, Don Filipe was a dedicated composer who got up at four a.m. to practice his cello or treble viol. In 1745, Leclair devoted his second set of concerti to him, much of which had earned the prince's approval. Back in Paris, Leclaire concentrated on the production of Scylla and Glaucus, his only opera, which premiered on October 4, 1746, at the Academie Royale de Musique. Shortly after, he joined the service of the Duc Antoine de Gramont, a previous student, and took over as owner of the duke's private theatre in Puteaux. There, he wrote or reworked the arias, dances, and musical divertimenti that would later appear in the scores he would conduct. He may have also imagined composing an opera named "Arion," based on a libretto by Louis Fuzelier that had already been put to music by Matho. "Most of the time, Leclair's character exhibited simplicity and earnest, thoughtful nature. He hated raucous applause, but he lacked not the feigned humility that seeks recognition or the presumptuous arrogance that breeds resentment." In his Dictionnaire des Artistes, written in 1776, Louis – Abel Fontenay wrote: Despite becoming a cultured man who read Ovid, Virgil, Moliere, and Milton, as well as historical books, and having grown more temperate in his conduct, Leclair's misanthropy grew as he grew older. In 1758, he abandoned his wife and moved to a run-down house on rue Careme-Prenant in a small, forgotten neighborhood, ignoring an offer of hospitality from the Duc de Gramont. He was stabbed there on October 22, 1764 – the same year that Locatelli, Rameau, and the Marquise de Pompadour died – in circumstances that, despite a thorough investigation, were never revealed. The first perpetrator was Jaques Paysant, the gardener who found the body the next morning; he had been arrested twice previously, and his evidence included some obvious inconsistencies. However, the perpetrator was almost definitely Guillaume-Francois Vial, Leclair's nephew, who "persecuted his uncle to force him to join the service of the Duc de Gramont" but failed.
The assassination of Leclair had such an effect that a columnist wrote that the killer or killers were "monsters who belonged neither to their country nor to the century." Only instrumental music was written by Leclair, including thirteen sonatas, violin concerti, and duo and trio sonatas. His modest success and his writing's strong technological and musical level earned him the moniker "Corelly de la France." However, his twelve concerti – opus 7 number 3 bears the inscription £solos can be played by the flute or the oboe" – preceded in Vivaldi's footsteps stylistically and formally. Although they were not the first of their type published in France, they are a major improvement on previous adaptations by composers such as Jaques Aubert and Boismortier. Each movement comprises three movements that alternate between tutti and soli. "Turns of phrase influenced by L'Estro Armonica, La Stravaganza, and Le Quattro Stagioni abound" in the rapid movements, according to Marc Pincherle, "themes focused on repetitive notes, syncopation, the "Lombardian manner" themes formed of the tonic chord, sequential growth, from sudden and impetuous unison passages." Slow movements often feature Italianate rhythms, but French music often inspired their lilting airs and moderate-tempo dances. However, relative to Vivaldi, the musical content is much more established.
The violin in Leclair's hands functions better toward the ensemble than for it as a collaborator. The soloist passages are composed with violin technique in mind: arpeggios, double and triple stops, bariolages, jumps, and virtuoso passagework add color, scope, and variety to the soloist passages. The orchestral writing is already symphonic, the intermediate voices are brilliantly formed, and Leclair is a master of counterpoints, as shown by the Allegro non-troppo of Concerto opus 7 number 2 after some measures of Corellian adagio. Despite his lifelong acquaintance with Italian culture, Leclair's overriding obsession with form remained French to the heart, and his more lyrical passages evince a certain reserve. Around the same time, his technological skill never descends into virtuosity for virtuosity, rendering his music a telling manifestation of the age's conceptual warning, "les gouts reunis."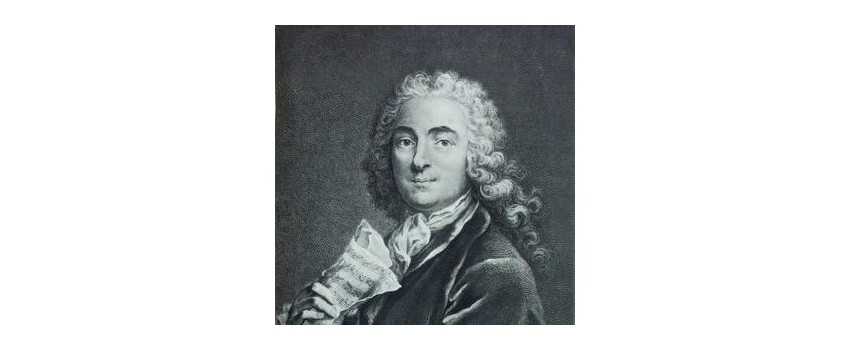 ---